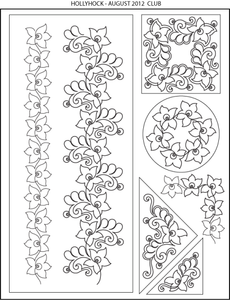 The Hollyhock series is a joint production between Hermione Agee and Patricia Ritter. This is the standard set arrangement and contains the following:
One 11" Hollyhock pantograph
One 4.75" pantograph that can also be used as a border/sashing
Two blocks
Once corner
Two setting triangles
Paper roll = 16.5"x144"
Custom Print Size:
Online custom sizing is not available for sets. If you would like individual elements of a set resized please contact us.
Digital Formats (for computerised machines):
Zip file includes CQP, DXF, HQF, IQP, MQR, PAT, PNG, PLT, QLI, SSD, TXT & WMF
A note about digital vs printed patterns:
Printed patterns are for use with a laser or stylus. They are printed on paper and physically shipped to customers
Digital patterns are designed to run computerised quilting systems and are supplied via instant download after payment is processed. They are not designed for "print at home".
We are unable to refund incorrectly chosen formats
Designed and digitised by Hermione Agee of Lorien Quilting and Patricia Ritter of Urban Elementz
Formatted by Digitech